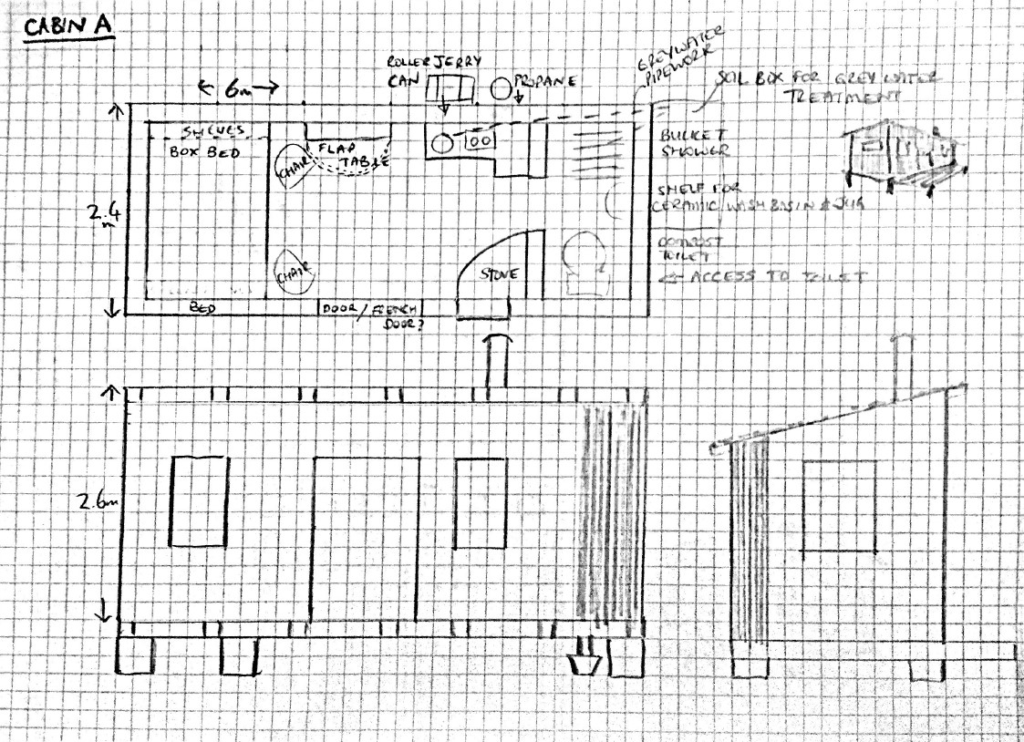 We immediately fell in love with the small woodland when we came to see our future home; as a place of enjoyment, nature connection, wildlife habitat, regeneration, and a resource. Permaculture ethics and design were a powerful tool in the process of re-imagining how we wanted to live and creating the design for our site. Two of the 'functions' within this design were 'accommodation' and 'livelihood', and by building two simple cabins situated in the woodland, we could introduce elements that supported both. Our aim was to bring Permaculture Ethics and systems into the design and construction of the cabins, but also to have this running though how we operate as a business. The cabins contribute to our livelihood, but also provide space for creative residencies, extra accommodation, and as an emergency 'lifeboat'.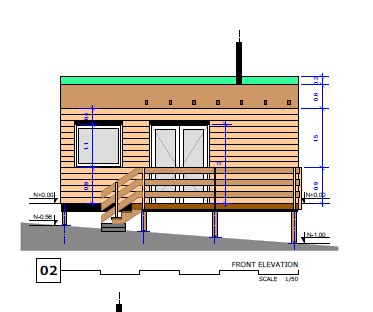 The names of the cabins, 'Siskin' and 'Coll', are derived from the place and nature around them (respectively, a small bird that inhabits the woods, and the Ogham tree alphabet for Hazel, which in Celtic mythology is associated with wisdom and creativity). They were inspired by huts we'd seen on our travels. Rather than purchasing off-the-peg, we wanted to build from scratch so we had control over the design, and for it to reflect our ethos and creativity, in harmony with the woodland.
Here is an overview of how the cabin 'patch design' fits into the context and patterns of the whole site: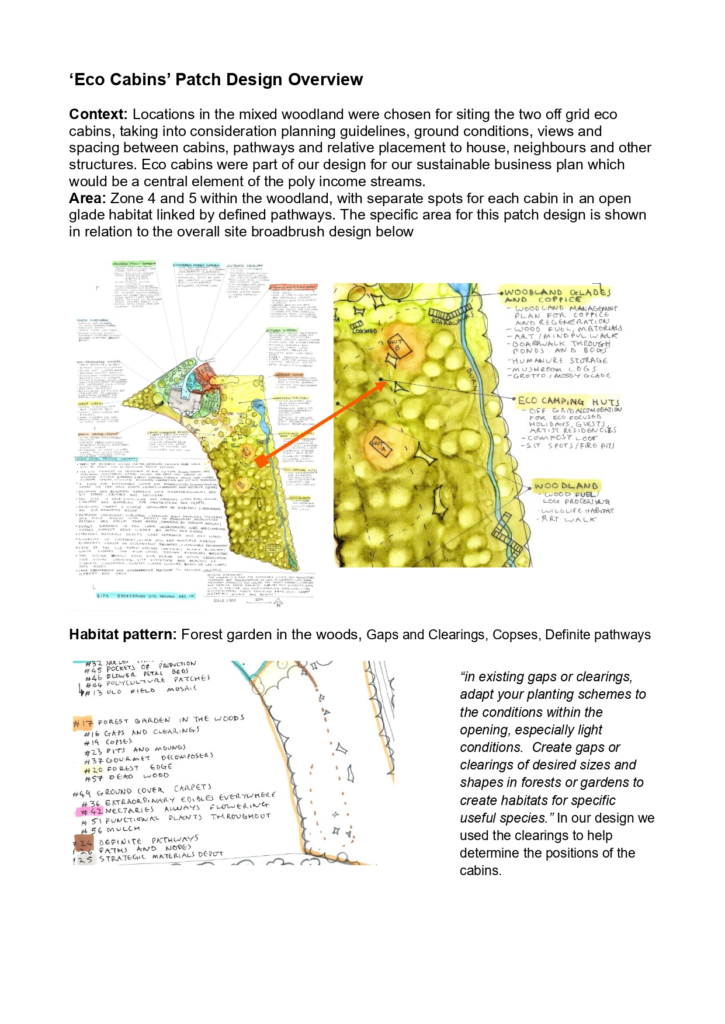 ETHICAL & ECOLOGICAL DESIGN, CONSTRUCTION AND OPERATION
We offer genuinely sustainable holidays for people visiting the Black Isle and Highlands, staying at our Permaculture LAND centre. It's important for guests to be comfortable, but also to have the opportunity to experience permaculture in action. The simplicity of the cabins, for example, using a foot pump to fill the kettle, and a stove to heat the water, encourages everyone to slow down and think about their consumption. There is a small permaculture library in the cabins, and we offer a tour of the gardens, so we hope guests take away ideas about changes they could apply to make their own lives more sustainable.
We are concerned about the problem of holiday lets and second homes making local housing unaffordable, so decided on two purpose-built cabins. We made a carefully researched application for planning permission, utilising changes to Scottish 'hutting' legislation which means that small cabins or huts are exempt from building regulations. Siskin opened in summer 2020 and Coll in April 2022. We currently rent them via AirBnB, and while there is a lot of criticism for its impacts on communities when entire houses are let out, we feel that our purpose built accommodation avoids these issues. Recently the Scottish government brought in licensing of Short Term Lets, designed to address problems of holiday rentals affecting housing.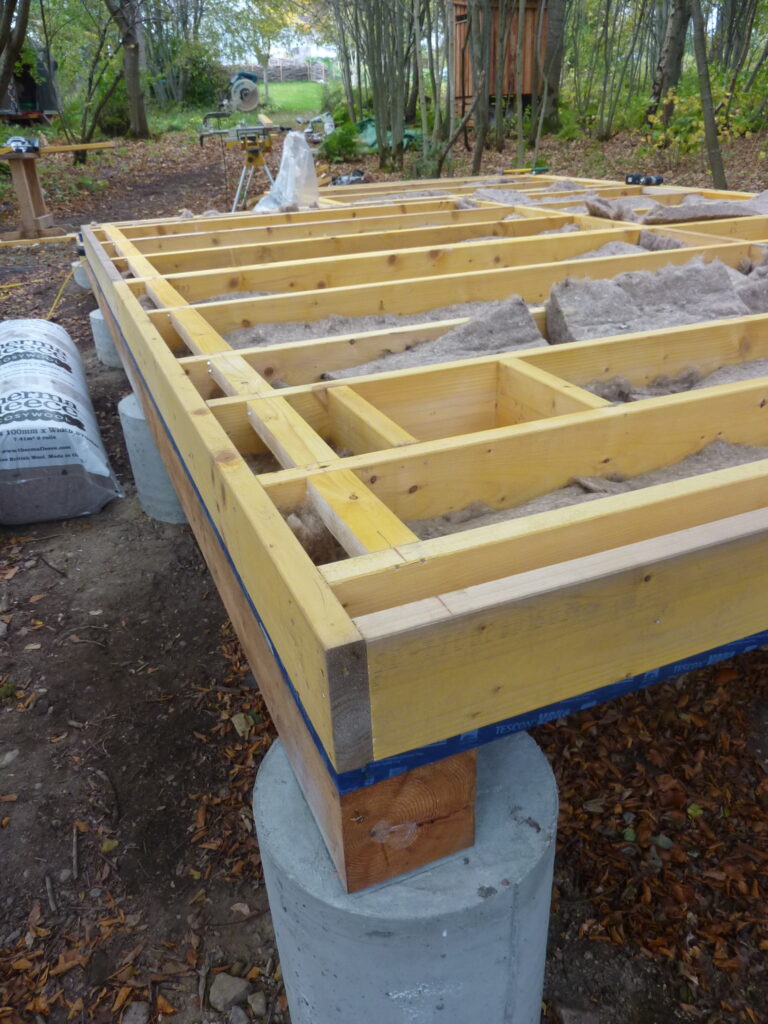 The green roofs added to the complexity of the builds, but we're really happy with the results, especially seeing the flowers buzzing with insect life in summer. They use a lightweight substrate of recycled crushed brick and organic compost, planted with sedums we grew from seeds and cuttings. Gutters lead to water butts – actually whiskey barrels.
We've used hand-me-downs, found materials, and charity shop finds throughout, for example, the cutlery belonged to Julie's Nan and dining chairs from 'Moray Waste Busters' which we upcycled. Other items have been creatively hand-crafted, e.g. light-shades from plastic milk bottles, cushions and upholstery from cheap fabric offcuts, curtain poles and coat stand made from coppiced wood, etc.. The mattress, duvet, curtains, and shower curtains are made from recycled PET bottles, and even the washing up bowl is recycled plastic! The bathroom floors are off-cuts of natural linoleum, the tiles in the kitchen were spares from renovations, and the slate for the hearth was found dumped in the wood!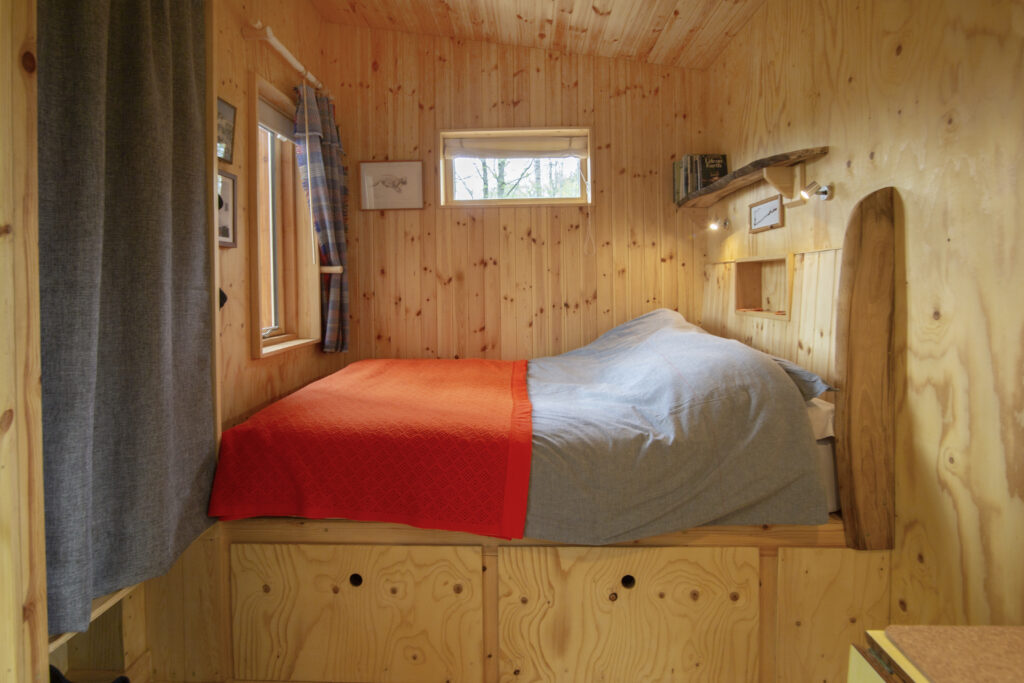 Initially we planned the cabins to be totally off-grid, but for practical reasons decided to include lights and phone chargers, so added 12v batteries that charge from solar panels on the house roof. Water demands are kept to a minimum with a tank and foot-pump for fresh water. A novel feature is the bucket shower which is filled with water heated on the stove, and hoisted by pulley over a cut-down whisky barrel to take a short shower. Grey water goes into a soakaway, and this is taken up by trees (which is why we ask guests to use natural toiletries). We have a separating compost toilet, where the urine is collected into a tank for diluting into liquid fertiliser, or added to compost heaps. The solid waste goes into a separate bin under the cabin, and along with added sawdust, breaks down after about 18 months to a non smelly compost which can be applied to trees (not edible plants).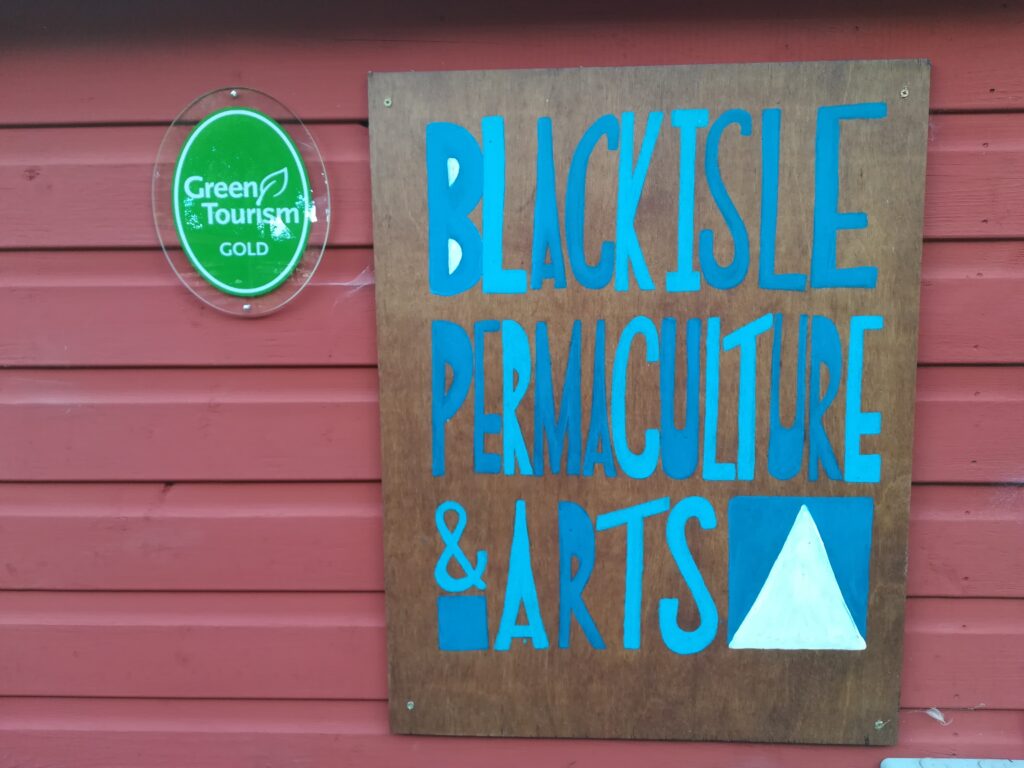 It's important to us that the operation is zero waste; we go to great lengths to carry on the ethos of 'earth care, people care and future care' throughout. Homemade organic bread, jams and eggs in our optional breakfast hamper, soap made with calendula from the garden, handcrafted dishcloths and pot holders, fresh wildflowers, facilities for recycling and composting, organic tea and coffee, and an info pack promoting slow tourism and active travel (we have a bike shed and power socket for guests bringing electric bikes). Sustainability is so central to our ethos that Green Tourism awarded us their highest 'Gold' rating. Working with local suppliers and ethical businesses as much as possible also contributes to the local economy.
Coll cabin is the larger of the two and includes a desk space for artists or writers. In April 2022 we hosted our first Artist in Residence, 'Seed Bed', funded by Creative Scotland. Collaborating with Circus Artspace, an artist-run initiative in Inverness, Glasgow based artist Fionn Duffy spent three weeks living here. The residency provided Fionn with time to explore her practice, while events such as a community reading group in the garden and art salon in the Yurt brought people together.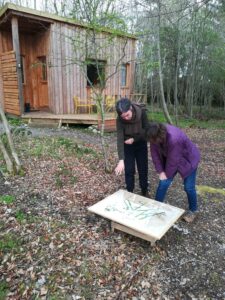 The cabins are built to last and show a model of low impact living. While we're not advocating that everyone leaves urban areas and lives in cabins, many of the features highlight ways that we can save energy and resources in our own homes. By being more mindful about where our 'waste' goes, reducing electricity demand and water consumption through low energy lights and appliances (and less of them!), shorter showers, compost toilets, cutting food waste and composting to create healthy soils, and considering everything we use for their lifecycle, environmental footprint and health impacts.