We are Black Isle Permaculture & Arts (BIPA), an ecological household, garden and woodland. Situated on the beautiful Black Isle, 13km north of Inverness in the Highlands of Scotland. Run by Clive and Julie, we offer off grid tourist accommodation, workshops and volunteering opportunities covering a variety of topics focused on growing food, gardening with nature and living lightly on the planet.
Our aim is to create a welcoming and accessible place where visitors can see how the ethics, principles, nature connection and design processes which make up 'Permaculture' have been applied and how they relate to the physical site and the way we live here, and hopefully take something away that will inspire them to make positive actions! By sharing our story and our journey we hope to contribute to the change towards a regenerative and sustainable future.
OUR ACCOMMODATION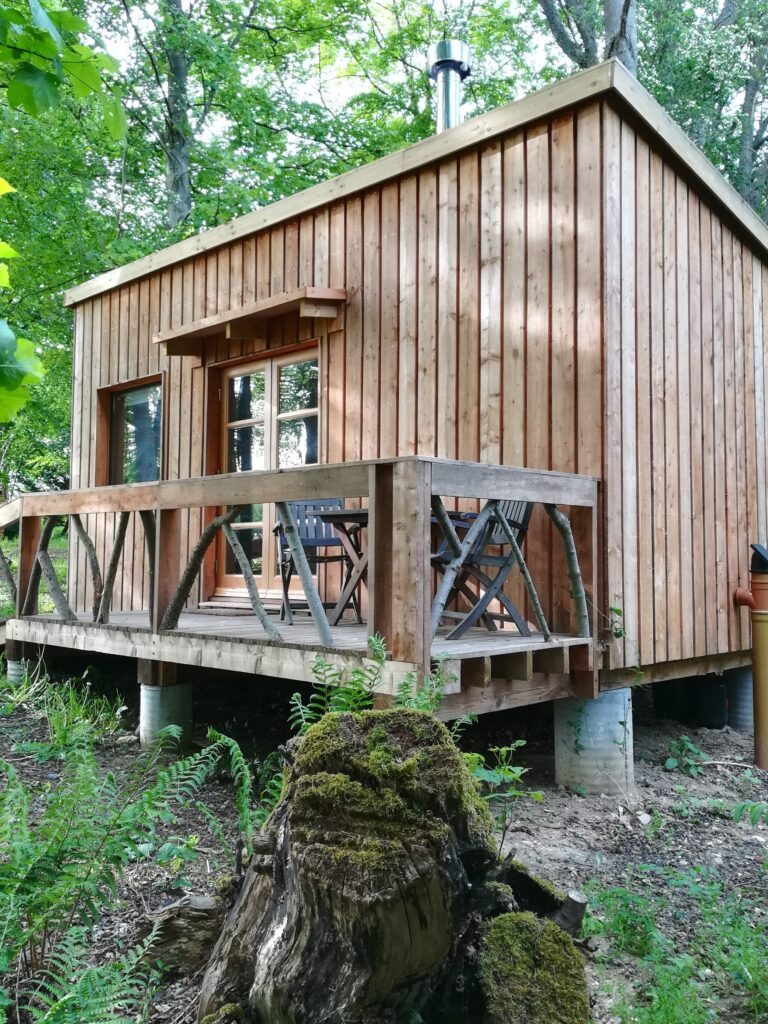 We invite you to stay in our bespoke timber cabins. Combining environmentally friendly features, artistic touches and rustic charm the cabins are ideal for eco conscious travellers who want to experience simple living! Siskin Cabin is available to book here, or message us to book direct. You can also find us on sustainable holiday planner Holiable.com
SHARING AND LEARNING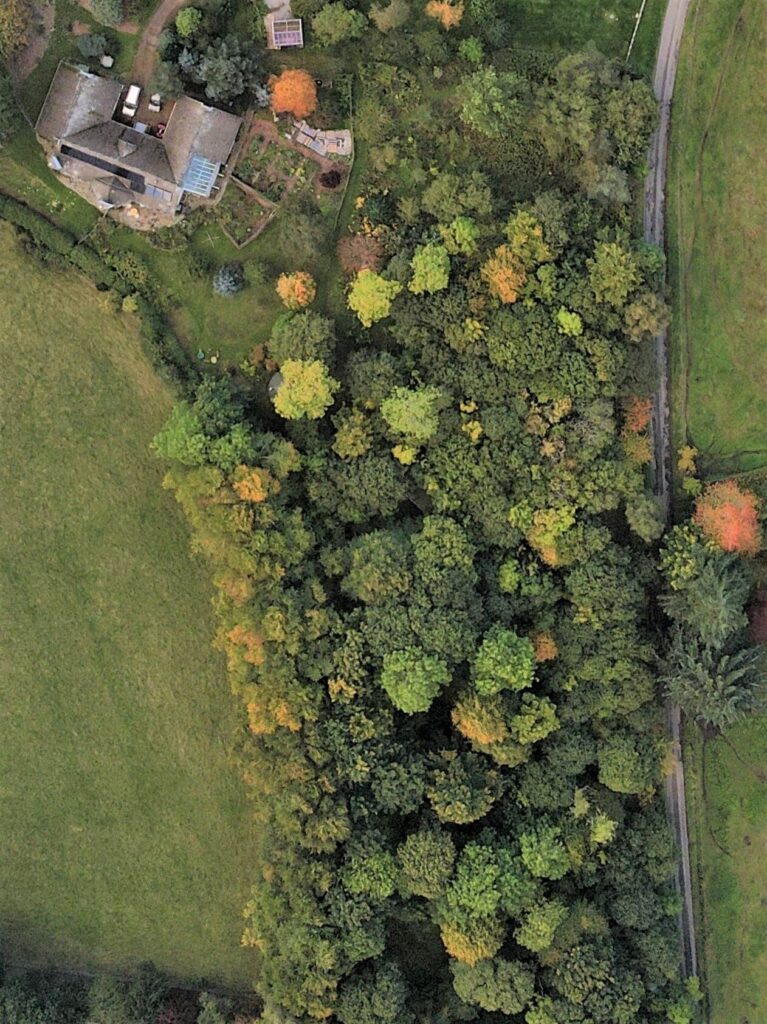 In 2.5 acre's of garden and woodland, we live a creative, sustainable and resilient lifestyle by the three principles of People Care, Earth Care and Future Care: a place where people can visit, stay, learn and share. We've been a Permaculture Learning And Network Demonstration (LAND) Centre since 2018 and are using our gardens to show the possibilities of Permaculture on a domestic scale.
VISIT OR VOLUNTEER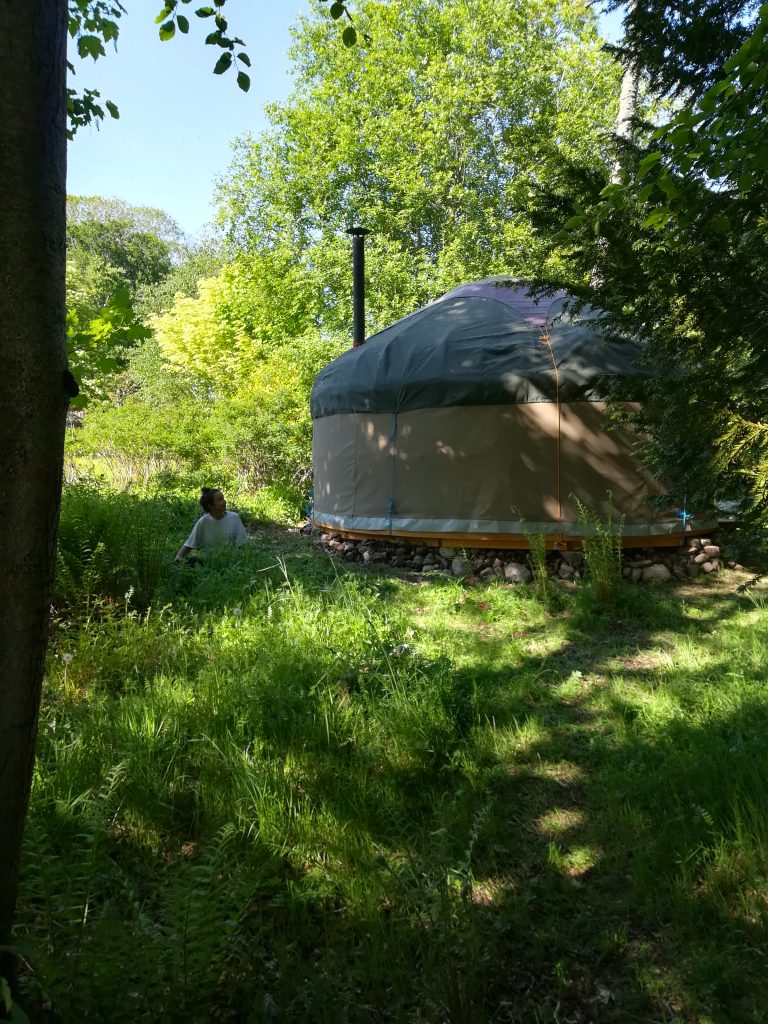 We host volunteers through the seasons as part of the WWOOF scheme, if you are interested in volunteering please see our profile on the WWOOF UK website. We also welcome visitors by appointment, and hold open days and workshops throughout the year.
The household and gardens here are being transformed using Permaculture design and techniques to create a balanced ecosystem for people, plants and animals while also adapting to the unfolding climate and ecological crisis. We have worked to create a place where we can live in a harmonious ecological balance which provides us with many of our needs: food, a comfortable place to live and stay, a livelihood, but also biodiversity and habitats for wildlife, and a place to share what we are learning. We have a mosaic of meadows, forest gardens, mixed woodland, wildlife pond and bog garden, a kitchen garden growing vegetables, salads, herbs, fruit, polycultures of wild flowers for insects and pollinators, and some free range hens. We use organic and no dig methods to create healthy soil, working with closed loop systems so nothing is wasted, either through composting, wormeries, mulching, reusing/upcycling materials, and wood processing for fuel.
On-site, we have built a compost toilet and a Yurt for use during events and workshops, and two eco cabins for guests wanting a simple, off grid, low impact holiday. We have used natural and organic materials to eco renovate the bungalow and installed renewable energies such as solar PV, solar hot water and biomass heating, as well as energy efficiency measures to reduce our energy consumption and carbon footprint. We have an arts and crafts studio where we work to create artwork and handmade products.
Please contact us at hello@blackislepermacultureandarts.co.uk if you'd like to visit or for information about a slow and sustainable Permaculture inspired holiday! Look out for details of events on our Facebook page @BIPASCOTLAND.