Enjoy the simple life in Siskin and Coll Cabins! Stay in these unique hand built timber cabin in our Permaculture woodland garden on the tranquil Black Isle in the Scottish Highlands. The cabins combine environmentally friendly features, artistic touches and rustic charm for a truly sustainable holiday in a comfortable and relaxing spot amongst the trees. The Green Tourism Gold rated cabins are ideal for eco conscious travellers who want to experience simple living surrounded by everything the Highlands offers
THE CABINS: ECO DESIGN, CONSTRUCTION AND OPERATION
We have two eco friendly cabins sited in our small woodland, called Siskin and Coll Cabin (pronounced 'Col') The names are derived from the place and nature around them. Siskin is a small bird which is common around the woods, and the title of the Edwyn Collins print hanging in the cabin (which was in a calendar given away when we were in Glasgow!). Coll is Hazel in the Ogham tree alphabet, an ancient medieval alphabet. The name Kilcoy derives from the Gaelic 'Cu coille', meaning 'nook/neuk of the hazel wood'. In Celtic mythology Hazel is associated with wisdom, creativity and knowledge.
DESIGN
The cabins were inspired by our travels in Scandinavia and Scotland, seeing small timber cabins and huts. Our favourites included a small cabin we stayed in at a forest smallholding in Telemark in Norway and The Booth in Scalloway, and so we used this inspiration to design our own! Recently there has been a growing trend for tiny houses and cabins in the UK which also gave us lots of sources of inspiration.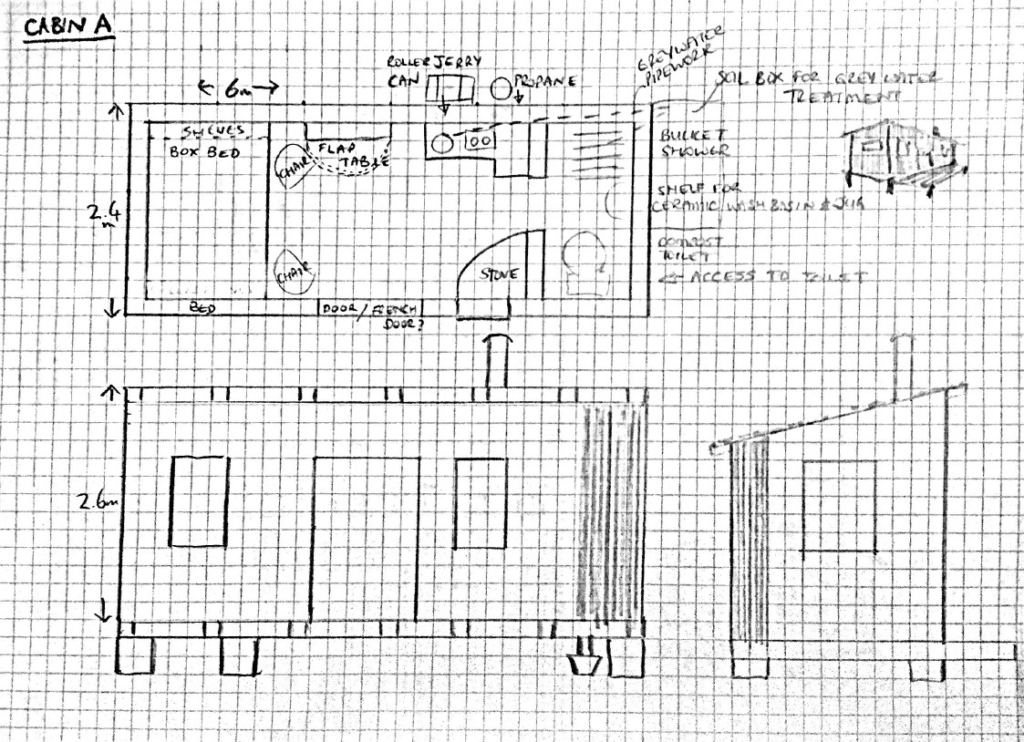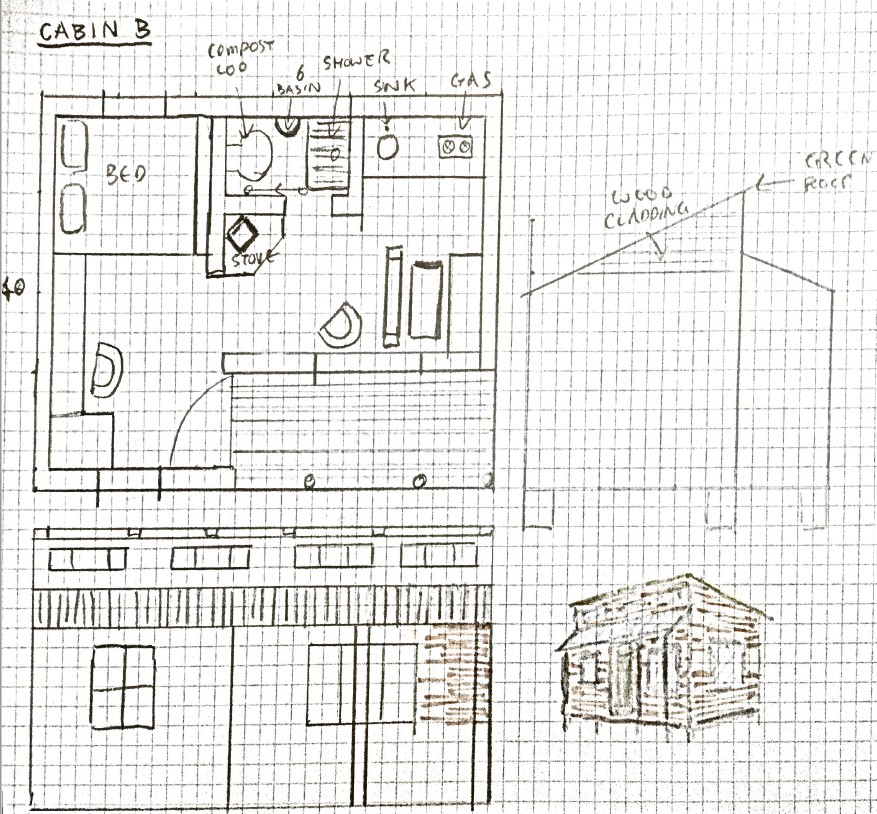 Rather than purchasing a characterless, off-the-peg cabin or pod which are becoming ubiquitous in the UK, we wanted to build from scratch so we had full control over the design, the materials used, and for it to reflect our ideas and creativity in the character of the build. Our aim was to create something unique that would fully meet all our environmental requirements and that was in harmony with the woodland and the ethics and values which run through everything we do here. Below is an overview of how the cabins fit into the context of the whole site permaculture design and the construction process: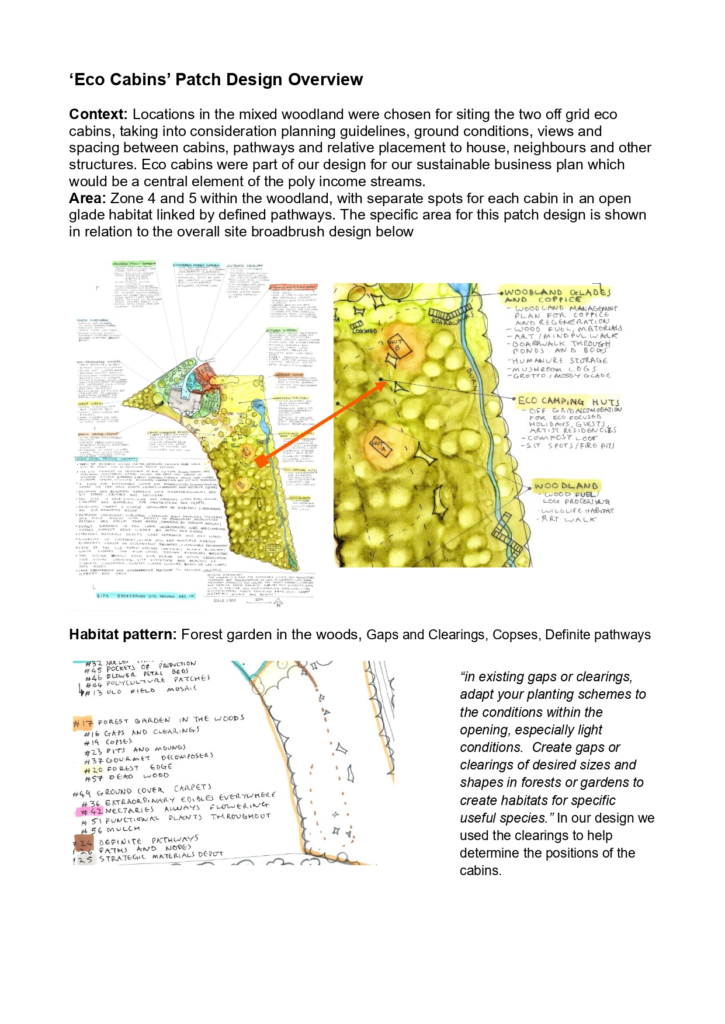 MATERIALS
Above all, we want guests to have a comfortable stay, but also to perhaps take away a few ideas or think about their lifestyles and small changes that could be made towards a more sustainable way of living. Every effort has been made to use environmentally friendly and locally sourced products in constructing and furnishing the cabins and to make the build and operation of the them as low impact as possible.
It was important that the cabins had a small footprint and impact on the woodland, so we designed the foundations as small pad/columns so they could effectively be removed if the cabin was ever dismantled. We used concrete as we were unable to find a suitable alternative that was available, affordable and would cope with the ground conditions, but we used recycle rubble and bricks/blocks for the base so the amount of concrete was very small.
We hand-built the cabin with assistance from Northwood's Construction in Ullapool who installed the foundations and provided a crash course in cabin framing and construction techniques. They specialise in eco friendly timber building in Scotland. See www.northwoodsdesign.co.uk
The larch cladding, decking, and structural beams were supplied by Cromartie Timber, in Strathpepper, from locally sourced wood. They also milled some of our own beech and ash which we have made into shelving and the table in Siskin cabin.
We used Meditvent, an eco friendly MDF sheet material for the wall sheathing, mdfosb.com/en/products/medite-vent#. We used breathable vapour membrane on top of this to make it watertight and prevent condensation.
The walls, floor, and ceiling are fully insulated using UK sheep's wool, which is renewable, breathable and doesn't have harmful chemicals in it. We used www.thermafleece.com
The interiors are lined with Spruce plywood and trimmed with PEFC timber. This is finished with OSMO oils and wood waxes osmouk.com/product/wood-wax-finish.
The green roof uses a lightweight substrate made from recycled crushed brick and organic compost (supplied by www.greenroofsubstrates.co.uk) which is planted with sedums we have grown from cuttings. This provides habitat for insects, and slows rain water run off. The roof has an EPDM rubber underlay and recycled fleece on top f this as a drainage layer, then the substrate and plants are on top of this, with gravel drainage at the edges and gutters leading off to soakaways and rain water harvesting barrels.
The bathroom floors are off-cut of natural linoleum which is carbon neutral and has natural anti-bacterial properties.
The windows were from surplus stock and one is even handmade from a recycled double glazed unit.
The small wood-burners were constructed by an independent blacksmith in Glastonbury. The firewood and kindling is from our own woodland.
The tiles in the kitchen were spares from renovations in the house, and the slate around the fireplace was found dumped in the garden by a previous owner!
Where synthetic materials have been used we have tried to ensure these are from recycled sources, for example, the mattress, duvet, curtains, and shower curtains are made from recycled PET bottles, and even the washing up bowl is recycled plastic!
Moray Waste Busters at the recycling centre in Forres, Blythesewood Care and New Start Highlands in Dingwall have been an excellent source of second hand kit and furniture for upcycling, for example the dining room chairs which we re-varnished and re-upholstered!
We have tried to equip the cabins as sustainably as possible with hand me downs and charity shop finds, for example, the cutlery belonged to Julie's grandmother and crockery is from charity shops. Other items have been hand-crafted, or responsibly purchased, for example the lightshades are from plastic milk bottles, the pot holders and plant hangers are crochet and makrame by Julie and the curtain poles, hooks and coat stand are made from coppiced trees from the woods around you.
SYSTEMS AND OPERATION OF THE CABINS
While we're not advocating that everyone lives in off grid cabins, many of the systems and features of the cabin highlight ways that we can save energy and resources in our own homes and live more sustainably. So for example being more mindful about the resources we use, where our 'waste' goes and the circular economy, by reducing electricity demand through low energy lights and appliances (and less of them!), reducing water consumption with shorter showers and compost toilets, cutting food waste and composting more to create healthy soils, considering the materials we use in our households for their sustainability, recyleability, environmental footprint and health, such as no VOC natural paints, floorings and furnishings.
The 12v electrics are powered by batteries charged from solar panels on the house roof. We had hoped to have solar panels directly powering the cabins but in the woodland setting it wasn't feasible, so we decided to use the power generated on the roof of the main house via a mains cable and a smart battery charger on a timer. So its not strictly off grid but a kind of hybrid system. The cabins can run independently off the mains power for as long as the battery is charged, and with very low energy 12v lighting and few appliances they should run for a long time. We are planning to install a solar charging station for the batteries in a sunnier part of the garden and we can then simply swap the battery out.
Water input and output. Fresh water is from a 51 litre tank which is filled from a mains tap in the garden. This is used via a footpump and tap in the cabin as drinking water, and also for heating up for showers/washing. We have a bucket shower fitted in the cabin and this means you can keep clean but also minimise water usage as the tap can't be left running, so a quick navy shower is the order of the day! More info about bucket showers below
The grey water from the kitchen and bathroom goes into a soakaway pipe outside the cabin, and this is absorbed into the ground and taken up by plants and trees (this is why we ask guests to use natural toiletries!).
Compost Toilet – We have installed a separator dry toilet, which is part of the composting system cycle for household. The urine is collected into a tank and thi s is used a liquid fertiliser either diluted and applied to beds, or run through the compost heaps to add nitrogen. The solid waste goes into a separate bucket, and along with the added sawdust, breaks down after 18 months- 2years to a non smelly compost which can be applied to trees and shrubs (not edible plants)
We designed and hand crafted the cabins ourselves to create the kind of places we would love to stay, and we hope you love them too! They are situated in a pleasant, private glade in our woodland garden. They both sleep up to two people in a double bed, with cooking facilities (Coll Cabin has a fridge and larger oven/cooker), a compact dining/seating area, a compost toilet and bucket shower in a small en suite bathroom. The cosy spaces have wood burners with firewood supplied from our own woodland. Both have an outside deck with table and chairs, and a view across the wood and fields, ideal for relaxing after a day exploring the area, and maybe spotting the Red Kites swooping overhead or sheep in the field in front!
Instead of wifi there are games and books, and radio to keep you entertained. Low voltage lights and USB phone charger are powered by a solar charged battery. There are also rechargeable lanterns as well as a speaker to play music from your smartphone.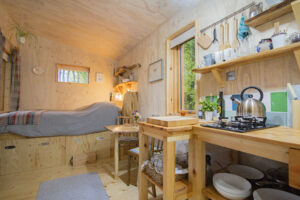 A stay here is ideal for people with an interest in nature, simple, sustainable living, eco tourism, organic food growing or Permaculture. There is plenty of wildlife around, with many animals, birds and insects such as tawny owls, red kites, deer, badgers, bats, frogs and hedgehogs visiting the woods. Guests are welcome to explore the small woodland, following the meandering paths, and we even have a boardwalk through the bog garden. We are easy to reach by public transport and within walking distance of a bus stop with regular services to and from Inverness, so ideal for a car free holiday.
You can find further details about staying here and book on our AirBnB page. Or to check availability and book direct with us, email hello@blackislepermacultureandarts.co.uk for more information about a Permaculture inspired holiday! You can also find us on sustainable holiday planner Holiable.Com, and on the VisitScotland website.